Welcome to another week of Sunday Sit Down. Grab a cuppa, fluff up the pillows, sit down and have a read. This week I have another short poem for you from my writing archives. I remember enjoying creating this character and envisaging her life. Reading back through my old poems and short stories, I realise that there is a common theme with age or aging. I find the idea of a long life and the endless possibilities that life entails quite interesting. Pondering the opposite end of the scale is equally fascinating. This poem most certainly covers the idea of a life unlived. I hope you enjoy it.
~~~ This Old Woman ~~~
This old woman sagged before her time.
Her eyes became old and tired
Before her life was rented and hired.
She knew of little but thought of much,
Of sex and God and life and such.
But this old woman, young at heart,
Wondered when if ever life would start.
She counted chimes, too young to die,
She waited and watched for life to come by.
Waited and watched, waited and watched,
But this old woman, life never touched.
Geraldine Walsh © Over Heaven's Hill
For More of My Creative Writing Series Sunday Sit Down click Here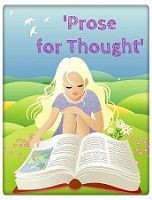 Digiprove sealCopyright protected by Digiprove © 2016 Victoria Welton